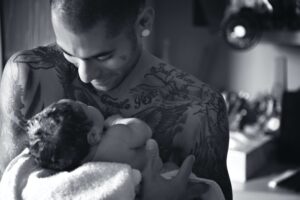 Many times in life, we catch ourselves saying things our parents used to say.  The older I get the more I hear my parents coming out of my mouth, especially my mom.  Mom could quote scripture or cite adages that applied to just about any situation.  One such saying was "don't wish your life away" which I heard many times, especially once I became a mother.  I remember venting to mom about one kid or the other doing this or that.  Nothing in particular, just kids being kids. Out of frustration, I would say "I wish they were grown!" to which mom would reply "don't wish your life away."  Usually met with a sigh and eye roll by me.
A few years back, I was blessed to work next to a pediatric office, which I visited several times a day.  With both of my sons now grown, it was a joy to walk in and see smiling little faces, hear their cute giggles, and sometimes get hugs and kisses from some of these adorable kiddos.
Late one afternoon, I walked in and noticed a young couple sitting talking, with their newborn in a carrier next to them.  The newborn's eyes were fixed on the dad, watching his every move, smiling the entire time.  I couldn't help but stop and comment about how the baby was admiring his daddy with such an intense gaze.  It was the look of love - intense, pure, unconditional love.  As I opened the door to leave, I smiled and remarked to the parents that I wished for just one day, my children would look at me like that.
No sooner than the door closed, something came over me.  I heard my mom's voice saying "don't wish your life away" and I got choked up.  I could picture my grown sons looking at me with that intense, pure, unconditional love but with tears in their eyes.  It was the look my brothers and I had when we said goodbye to our dad.  So yes, I  may one day see that intense, pure, unconditional look of love from my children, but I'm in no hurry.
~Lacy Gray