When I was published three years ago in Chicken Soup for the Soul, it was an absolute dream come true.  From that moment on, I was determined to continue writing in hopes of being published again. I am elated to announce that I have had another story chosen to be included in an upcoming book titled Chicken Soup for the Soul: Miracles & Divine Intervention. Even finding out I was being published again involved a little divine intervention! The night before I received notification, my cousin and I were attending the annual Jack-o'-lantern Spectacular in Louisville, Kentucky.  I told her I had something in the works, nothing definite, but that I was praying on it.  As soon as we drove in, we came upon an entire section of pumpkins in a cuckoo clock display. With a huge smile on my face, I said "God is listening", and explained that I had submitted a story for publication titled "The Cuckoo Clock." The next day, while at lunch, I received the congratulatory email. My story had been chosen! The Lord listens to your prayers. Believe it and it will happen.
I do hope you will read my story in Chicken Soup for the Soul: Miracles & Divine Intervention!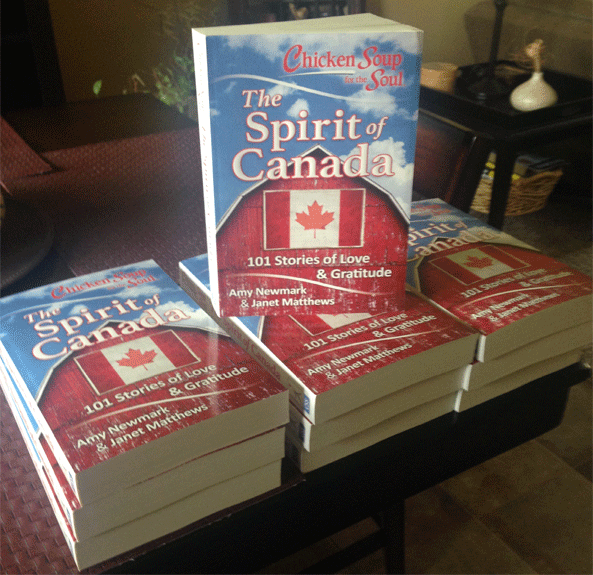 Chicken Soup for the Soul: The Spirit of Canada
I am honored and humbled to be published in Chicken Soup for the Soul: The Spirit of Canada. This special edition is published in celebration of Canada's sesquicentennial (150th anniversary) which is an incredible honor, and humbling, especially due to the fact that I am an American. I have written as far back as I can remember and published several times in local newspapers but decided to take a chance and submit to the Chicken Soup for the Soul series. After checking my email a couple of hundred times a day since the first notification, I received the congratulatory email. Chicken Soup for the Soul stories are non-fiction. The story I wrote, titled "An Inukshuk to Guide Me Home" was my experience leaving Canada and about the special people that made it both magical and unforgettable. You can read my story in the Stories section of my website.  Information on purchasing your copy can be found on the Chicken Soup for the Soul website. Be sure to check out other popular Chicken Soup titles!
Yes there will always be speed bumps. You just have to slow down, proceed with caution, and keep your eye on the road.  Soon, you'll find yourself on the other side, continuing on to your destination. Just remember, if you look in the rear view mirror, that speed bump is behind you. You got over it just fine. And if you so choose, you don't ever have to travel down that road again. You might even find there's a better path that leads to where you want to be.
What do we have to contribute to make this world a better place? Most of us search our entire life asking this very question. Everyone has something to give, be it a grand gesture or a simple smile to a stranger, it all matters. What stirs your soul? This question will lead you to the answer. Sometimes you just have to be still and listen and you will find your gift. I will continue to write and let both my memories and imagination lead me to where my hands and heart follow. I've lived a colorful life. Certainly not as exciting as some, but I definitely have some stories to tell, songs to sing, and poems to write. I thank God every single day for his many blessings and I look forward sharing this journey with you! Come join me through the many seasons of life and see where this adventure takes us. Let's go!
With so much going on in the world, my mind feels like a fish bowl. There are all these fish (thoughts) of every different color, size and shape, swimming in every direction. Lots to sort out and chat about! Jump in! The water is always warm! We could float on the lazy river, cast a line to see what's biting or dive head first into raging rapids! Let's make a splash! Be sure to check out my blog and share your thoughts! Company always welcome!